Zebra Mildliner Double-Sided Highlighter - 5 Colour Set
Available for
&
Zebra Mildliner features unique pastel colours which make them one of the best bullet journal pens. The colours of the Zebra Mildliner pens are gentler than ordinary highlighters so they show softer colours on your bullet journal than ordinary highlighters. The Zebra Mildliner highlighters also feature water-based ink and a double-sided tip design — a standard chisel tip on one end for normal highlighting and a fine bullet tip on the other for underlining and writing notes. As the culture of "Bullet Journaling" in Japan spread to the world, it becomes the best highlighter for making journal decoration. 
The Fluorescent

colour 

set contains Mild Blue, Mild Blue Green, Mild Yellow, Mild Orange, and Mild Pink.
The Cool & Refined colour set contains Mild Red, Mild Violet, Mild Gray, Mild Dark Blue, and Mild Green.
Deep & Warm colour set contains Mild Brown, Mild Vermilion, Mild Gold, Mild Magenta, and Mild Smoke Blue.

The soft colour set contains Mild Coral Pink, Mild Cyan Blue, Mild Lemon Yellow, Mild Dark Gray, and Mild Apricot.

The bright colour set contains Mild Lavender, Mild Summer Green, Mild Citrus Green, Mild Marie Gold, and Mild Fuchsia.
For individual Zebra Mildliner highlighters, please check Zebra Mildliner Double-Sided Pastel Highlighter (25 Colours).
Customer Reviews
Write a Review
Ask a Question
07/21/2021
Bindi S.

Australia
I've always been in love with Japanese stationaries and it's always worth it to spend money on it. But honestly your service was also great. I'm definitely gonna buy products from Bunbougu in future and I'm planning to start my bujo ig account and I'll make sure to tag you guys in my post so that more people knows about your online shop. Thank you very much again.
07/18/2021
Jemma N.

Australia
Perfect! My items came faster than expected and exactly as described x
07/16/2021
Isabella

Australia
Mildliner
These mildliners are straight up gorgeous! I ordered 2 packs which provides you with a wonderful selection of colours. Perfect for those times your page seems barren and bleak. Zebra Mildliner Double-Sided Highlighter - 5 Colour Set- Fluorescent Colour Set Zebra Mildliner Double-Sided Highlighter - 5 Colour Set- Soft Colour Set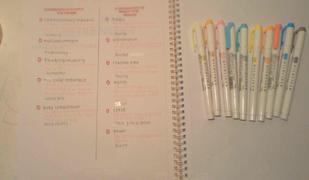 07/14/2021
Chassidy T.

New Zealand
Shipping within Australia
Order Value
Shipping Methods
Under $59

Standard Post (Online Tracking + Transit Insurance) - $5.85

Express Post (Online Tracking + Transit Insurance) - $9.95

Over $59 (after any discounts applied)

Free Standard Post (Online Tracking + Transit Insurance) 



*All delivery service includes online tracking service and transit insurance.

Processing Time: 1 business day (weekends and public holidays are not business days).

Delivery Speeds: 
Standard Post: Online Tracking, 2 - 5 Business Days.
Express Post: Online Tracking, 1 - 2 Business Days.

Transit Cover: Every shipment comes with Australia Post Transit Insurance for your peace of mind.


*Shipping to New Zealand starts from $17 by DHL International Express, more info in Shipping Policy to New Zealand.
- What if I change my mind?
You can lodge return or exchange at any time within 30 days after purchase.

- What if I find the products I receive are in a poor condition?
If an item arrives damaged or seems defective. Please contact us and we'll be happy to resolve the issue as soon as possible.
Please see more details in our Return Policy.