Appree Pressed Flower Deco Sticker - Freesia
Available for
&
Appree adds minimal design and tried to maximize the natural beauty in itself. The pressed-flower type stickers are naturally merged into wherever we want, making it a different place and giving it a new feeling. Each piece of the stickers is designed in a three-dimensional way to express the shadows of the plant. The surface of the stickers is matte finished, making them naturally blending into your journals or books.
This is a pressed-flower type Freesia sticker made by pressing flowers and leaves. The floral language of Freesia is "innocence" and "I support your beginning." It grows up to 30 to 40 cm of height in the southern part of South Africa, its stem is split in the upper part of the branch and bends over at a right angle where a yellowish flower blooms. It is mainly used for gift or flower arrangement.
* It is not a real pressed flower, but a printed sticker made by re-editing the images of the pressed flower.
Customer Reviews
Write a Review
Ask a Question
09/06/2021
Freesia M.

New Zealand
These stickers are so beautiful.. I guess the only bad thing I could say is that I wasn't able to buy more than the 3 packs at a time. I would definitely love to get more as I am in the process of making skin care remedies for my family and placing a freesia sticker on the jars as a representation of me as my name is also freesia. Thank you for the fast postage aswell. Will buy from you guys again soon :)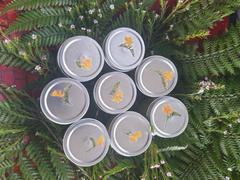 Shipping within Australia
Order Value
Shipping Methods
Under $59

Standard Post (Online Tracking + Transit Insurance) - $6.85

Express Post (Online Tracking + Transit Insurance) - $9.85

Over $59 (after any discounts applied)

Free Standard Post (Online Tracking + Transit Insurance) 



*All delivery service includes online tracking service and transit insurance.

Processing Time: 
Standard Post: 1 - 2 Business Days.
Express Post: Within 1 Business Day.

Delivery Speeds: 
Standard Post: Online Tracking, 2 - 6 Business Days.
Express Post: Online Tracking, 1 - 3 Business Days.

Transit Cover: Every shipment comes with Australia Post Transit Insurance for your peace of mind.


*Shipping to New Zealand starts from $17 by DHL International Express, more info in Shipping Policy to New Zealand.
- What if I change my mind?
You can lodge return or exchange at any time within 30 days after purchase.

- What if I find the products I receive are in a poor condition?
If an item arrives damaged or seems defective. Please contact us and we'll be happy to resolve the issue as soon as possible.
Please see more details in our Return Policy.