Pilot Custom 823 Fountain Pen Gift Set - Amber - 14k Gold
Available for
&
The Pilot Custom 823 fountain pen gift set comes with a Pilot Gift Box, a Use and Care Guide and a 70 ml Pilot fountain pen ink in black colour.
Pilot Custom 823 Fountain Pen is one of Pilot's flagship fountain pens. This pen combines classic styling with a touch of modernity. The amber body colour and gold trim are part of the classic look and the transparent demonstrator creates a feeling of modernity. It also features a 14k gold nib and an innovative vacuum filling system.
Thanks to the vacuum filling system, the Custom 823 holds more ink than the standard cartridge and is a breeze to fill. Simply unscrew and pull out the plunger, dip the nib up to the neck in your ink and depress the plunger. The ink is drawn up into the pen under vacuum pressure as you push the plunger into the pen body. To keep the ink where it should be, the pen has a built-in valve. When the plunger knob is fully tightened, it seals off the ink reservoir. This means that in order to write, you need to loosen the plunger knob to allow ink to flow to the nib. The knob only needs to come out 2 mm from the body.
The pen is slightly longer than most fountain pens, making it comfortable in the hand uncapped. The body is remarkably well-balanced no matter when it is capped or not capped.
*Please do not try to unscrew the grip section. It is not meant to unscrew and may crack.
Customer Reviews
Write a Review
Ask a Question
03/23/2023
Gerry M.

Australia
Wonderful Pilot Pen
What a fantastic pen, looks great. Writes beautifully, feels great in my hand. Oh so smooth, love the vacuum filler and the view of the ink. Came in a lovely presentation box with a bottle of really good ink. Would highly recommend treating yourself to one of these wonderful pens
03/13/2023
Kelly M.

Australia
My Custom 823 is beautiful and an absolute dream to write with, and has fast become one of my two favourite pens. The M nib provides a smooth, wet writing experience with a barely perceptible resistance against the paper, so it doesn't feel too slippery. The vacuum filling mechanism and full size of this pen makes it a touch heavier than a plastic converter pen, but it's very well balanced, pleasant and comfortable to write with, even in my small hand. It looks, feels, and behaves of quality, and I'm very pleased with my purchase. Shipping was quick to NSW.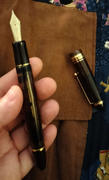 07/04/2022
Prateek A.

Australia
11/12/2023
Khosro Z.

Australia
Such a fantastic pen! Very high quality and joy to write with. I have a M nib, which writes closer to F western nibs. Highly recommend it
Shipping within Australia
Order Value
Shipping Methods
Under $59

Standard Post (Online Tracking + Transit Insurance) - $6.85

Express Post (Online Tracking + Transit Insurance) - $9.85

Over $59 (after any discounts applied)

Free Standard Post (Online Tracking + Transit Insurance) 



*All delivery service includes online tracking service and transit insurance.

Processing Time: 
Standard Post: 1 - 2 Business Days.
Express Post: Within 1 Business Day.

Delivery Speeds: 
Standard Post: Online Tracking, 2 - 6 Business Days.
Express Post: Online Tracking, 1 - 3 Business Days.

Transit Cover: Every shipment comes with Australia Post Transit Insurance for your peace of mind.


*Shipping to New Zealand starts from $17 by DHL International Express, more info in Shipping Policy to New Zealand.
- What if I change my mind?
You can lodge return or exchange at any time within 30 days after purchase.

- What if I find the products I receive are in a poor condition?
If an item arrives damaged or seems defective. Please contact us and we'll be happy to resolve the issue as soon as possible.
Please see more details in our Return Policy.