Rotring 600 Mechanical Pencil - Camouflage Green - 0.5 mm
Available for
&
Rotring has released 3 new colours to Rotring 600 series. You can now choose your favourite colours with 0.5 mm mechanical pencils, 0.7 mm mechanical pencils and 1.0 mm ballpoint pens.
Rotring 600 mechanical pencil features a whole metal body inspired by Bauhaus design. The body is designed in a hexagonal shape to prevent rolling. The brand logo and the size of the pencil are printed in Rotring's iconic red colour on the body.
The grip is designed to be skidproof, which helps users easily control the pencil during using. The metal stabilizer helps to stabilize the lead and decreases the rate of breaking the lead. At the push button of the pen, it features a lead indicator with a classic red circle design. All Rotring 600 pencils are packed in a triangular package which prevents being damaged in transit.
Rotring is one of the most famous mechanical pencil manufacturers in the world. It is recognized that German-made is the label for well-designed and solid quality. Rotring 600 mechanical pencil is the perfect pencil to prove it.
Customer Reviews
Write a Review
Ask a Question
gorgeous limited edition colour for this iconic pencil. Just don't drop it coz you'll bend the lead sleeve and there are no replacement front end units for the limited edition colours. The only Australian retailer with these limited colours. Go on - what are you waiting for!
07/07/2020
Ed

Australia
Great Colour!
Rotring 600 is a fantastic mechanical pencil that is difficult to find fault with. Personal preferences aside, everyone should try a Rotring at least once. Good grip without feeling too aggressive. Satisfying knock with a well controlled feed of lead. Lead hardness indicator of 4H to 2B covers a good selection of lead grades for most uses. Highly recommended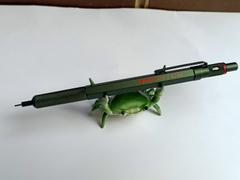 Pre-order Shipping
Estimated dispatch dates subject to change. If in-stock items and pre-order items are ordered in a single order, all items will be shipped together until the pre-order items are fully available. We are unable to split orders into multiple shipments. If you would like us to dispatch the in-stock items immediately, please place in-stock items and pre-order items in separate orders.
August 2021 New Update
Due to the unstable delivery speed during lockdown, we decide to offer free Express shipping (1 - 2 business days) for all orders to Australian addresses when you spend more than $59 (after any discounts applied).
Shipping within Australia
Order Value
Shipping Methods
Under $59

Standard Post (Online Tracking + Transit Insurance) - $5.85

Express Post (Online Tracking + Transit Insurance) - $9.95

Over $59 (after any discounts applied)

Free Standard Post (Online Tracking + Transit Insurance) 



*All delivery service includes online tracking service and transit insurance.

Processing Time: 1 business day (weekends and public holidays are not business days).

Delivery Speeds: 
Standard Post: Online Tracking, 2 - 5 Business Days.
Express Post: Online Tracking, 1 - 2 Business Days.

Transit Cover: Every shipment comes with Australia Post Transit Insurance for your peace of mind.


*Shipping to New Zealand starts from $17 by DHL International Express, more info in Shipping Policy to New Zealand.
- What if I change my mind?
You can lodge return or exchange at any time within 30 days after purchase.

- What if I find the products I receive are in a poor condition?
If an item arrives damaged or seems defective. Please contact us and we'll be happy to resolve the issue as soon as possible.
Please see more details in our Return Policy.