Staedtler 925-25 Drafting Mechanical Pencil - Silver Body
Available for
&
Germany designed mechanical pencil is famous for its quality. Staedtler 925 series has not only the great quality but also the great design. The series has two models, 925-25 and 925-35. The only difference between 925-25 and 925-35 is the body colors. 925-25 is silver while 925-35 is navy.
Every detail is well-designed to give a better work experience. Every aspect has been thought in order to give a great experience.
The tip is specially designed to make it more accurate. The brass-made and copper-made parts expand the work-life of the pencil.
The grip provides an excellent anti-skidding feature, which makes it like a part of your body during working.
The lead window allows you to avoid the accident of using the wrong lead.
The label allows you to quickly pick the correct size when you need it during work. Different sizes are labelled on both the body and the back of the pencil. The body is made from the aluminum alloy to lighter the overall weight. The weight of different part are specially designed to move the gravity point to the front in order to makes it easier during writing and drawing.
Customer Reviews
Write a Review
Ask a Question
07/26/2021
Sean S.

Australia
I was impressed wth Bunbougu's range of products and their prices. The Staedtler 925-25 mechanical pencil feels great in the hand, not heavy and nicely balanced. I especially like the knurled grip and the lead type window. Being made from aluminium, it should last for many years.
05/06/2021
Peter F.

Australia
This is a fantastic mechanical pencil with just the right weight and balance and a reliable mechanism. I've have a 2mm in silver that I got at Kinokuniya in Singapore years ago and its as good today as the day I bought it. I'm looking forward to the same now with this 0.5 lead one. PS I also bought at the same time from Bunbougu the 0.7 with the blue body and the new black bodies 0.3, they are all so cool!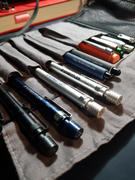 04/25/2021
Patrick S.

Australia
04/24/2021
Silvana A.

Australia
An absolutely amazing mechanical pencil. I wish l had purchased it earlier.
Shipping within Australia
Order Value
Shipping Methods
Under $59

Standard Post (Online Tracking + Transit Insurance) - $5.85

Express Post (Online Tracking + Transit Insurance) - $9.95

Over $59 (after any discounts applied)

Free Standard Post (Online Tracking + Transit Insurance) 



*All delivery service includes online tracking service and transit insurance.

Processing Time: 1 business day (weekends and public holidays are not business days).

Delivery Speeds: 
Standard Post: Online Tracking, 2 - 5 Business Days.
Express Post: Online Tracking, 1 - 2 Business Days.

Transit Cover: Every shipment comes with Australia Post Transit Insurance for your peace of mind.


*Shipping to New Zealand starts from $17 by DHL International Express, more info in Shipping Policy to New Zealand.
- What if I change my mind?
You can lodge return or exchange at any time within 30 days after purchase.

- What if I find the products I receive are in a poor condition?
If an item arrives damaged or seems defective. Please contact us and we'll be happy to resolve the issue as soon as possible.
Please see more details in our Return Policy.