Zebra Comic Pen Nib - Hard G - Pack of 10
Available for
&
The Zebra G-model comic pen nibs are handcrafted by Zebra specifically for comic and manga drawing. They are designed to fit wooden holders available from Zebra to create a traditional-style dip pen. The different nib sizes draw in different line widths and with different ink flow. The ease of adjusting line thickness gives maximal expressive potential and suits beginners.

The Zebra Hard G comic nibs are ideal for drawing, illustration, and calligraphy. The nibs come in a sturdy protective plastic box in a set of 10.
Customer Reviews
Write a Review
Ask a Question
08/10/2021
Tom D.

Australia
My great grand daughter has introduced me to Manga. We spend a few hours each week together. She's 10. Seems like I buy the goods, she shows me the characters, we draw them together. She's never used a dip pen. I'm real old school. Learned to write with pen and nip, mixing my own blue-black ink. Nice to have the feel back again, along with the ink stains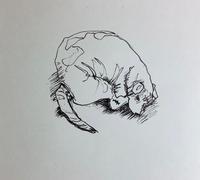 Definitely glad I invested in these (I've only used one nib so far). Wish I'd got on the dip pen bandwagon years ago. I noticed this was the hard version of the G nib, the regular G being unavailable at this store. I thought I'd give it a shot anyway as I'd seen it was recommended for newbies due to its hardness compensating for new users' tendency to press too hard and lose some control over the line width (apparently ‍♂️). Well, I must not be a newbie—or I must just have a soft touch—because I reckon I could sure use a softer pen nib for more expressive linework. Still, I'm giving these 5 stars as they are exactly what they promised to be, and I can get some VERY nice fine lines with it. Love the combo with the Tachikawa Comic Pen Nib Holder and the Kuretake Black ZIG Cartoonist Ink, currently drawing on 300gsm Bristol board.
Shipping within Australia
Order Value
Shipping Methods
Under $59

Standard Post (Online Tracking + Transit Insurance) - $6.85

Express Post (Online Tracking + Transit Insurance) - $9.85

Over $59 (after any discounts applied)

Free Standard Post (Online Tracking + Transit Insurance) 



*All delivery service includes online tracking service and transit insurance.

Processing Time: 1 business day (weekends and public holidays are not business days).

Delivery Speeds: 
Standard Post: Online Tracking, 2 - 6 Business Days.
Express Post: Online Tracking, 1 - 3 Business Days.

Transit Cover: Every shipment comes with Australia Post Transit Insurance for your peace of mind.


*Shipping to New Zealand starts from $17 by DHL International Express, more info in Shipping Policy to New Zealand.
- What if I change my mind?
You can lodge return or exchange at any time within 30 days after purchase.

- What if I find the products I receive are in a poor condition?
If an item arrives damaged or seems defective. Please contact us and we'll be happy to resolve the issue as soon as possible.
Please see more details in our Return Policy.